When are the next Iran tours?
The next 'Heart of Persia' tours are planned for:
August – 14th to 26th August 2020 (8 spaces left)
Registration

Once your booking is confirmed, please pay the deposit here.
If you would like to travel with your family, or prefer a custom tour please let us by completing our Tailored Tour form.
---
Pricing, Transportation and Accommodation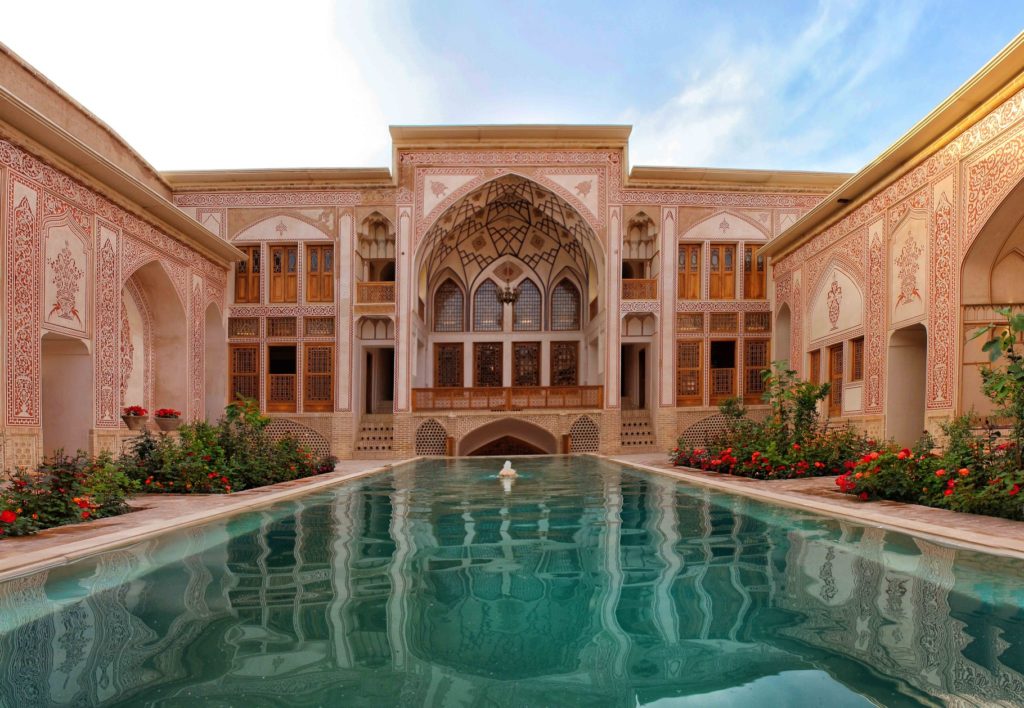 Pricing
The tour will cost £1,550 / € 1,740 per person.
Discounts
If you are enrolled as a full time student, we offer a 10% discount.
Whats included?
This will cover the following:
A tour guide (Fluent in English and Farsi)
All accommodation (You will stay in 'traditional' Iranian boutique hotels wherever possible and if you prefer a private room throughout the tour an extra £200 / 223 Euros will be requested)
Traditional Iranian Breakfast, lunch and dinner (vegetarian options available)
All domestic transportation (Private tour bus for the entirety of the trip (except Tehran where we will use public transport) , including a domestic flight to take you from Shiraz to Tehran at the last step of the tour)
Entrance fees to all attractions listed in the itinerary.
Please note: All international flights to and from Iran are not included the prices listed. If you require a visa, it will cost $50, and this is not included in the price.
---
Itinerary
The tour will last 13 days (12 nights) and cover these cities:
Tehran (3 nights)
Qom (day trip)
Kashan (2 night)
Natanz (pit stop)
Isfahan (3 nights)
Nain (pit stop)
Yazd (1 night)
Shiraz (3 nights)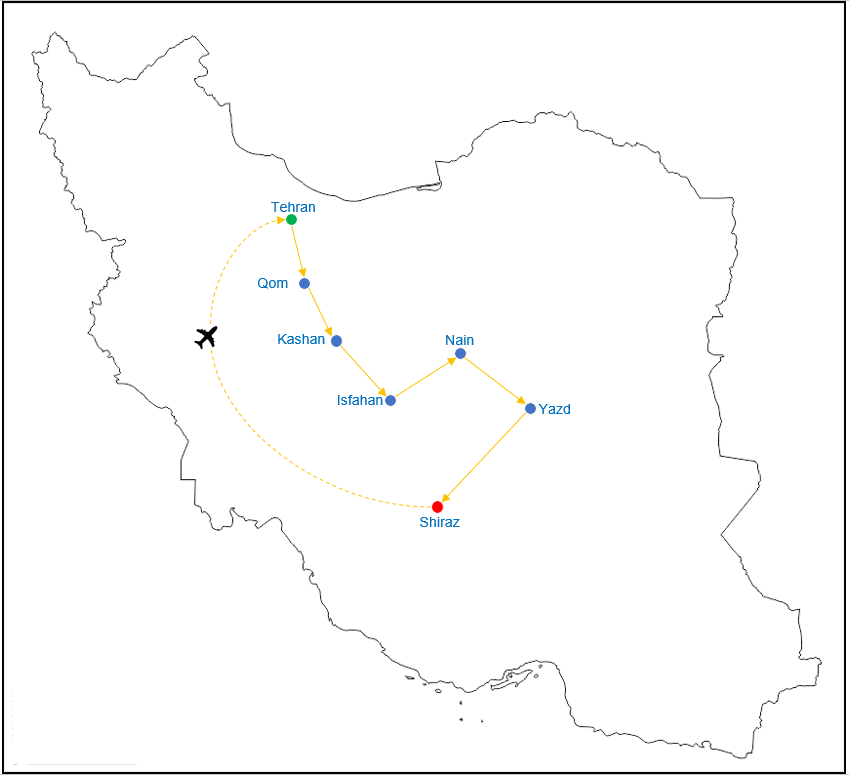 Day 1 (Tehran) – The Meetup
Arrive in Tehran at anytime and meet the rest of the group. Relax for the day and have lunch.
Visit Azadi Square in the evening
Day 2 (Tehran)
Visit the Qajari 'Golestan Palace'
Walk around the Grand Baazar to explore one of the oldest markets in Iran
Enjoy a traditional Iranian lunch in the Bazaar at one of the most famous spots visited by locals
Visit Tajrish in the evening, a northern suburb, to visit the famous shrine of Imamzadeh Saleh and hike the snow capped Darband mountain for views of Tehran and enjoy dinner
Day 3 (Qom/ Kashan)
Leave early morning after breakfast for Kashan, a town famous for carpets and tiles world over
Stop by at Qom, the religious heart of Iran to visit the shrine of Fatima (sister of the 8th Shia Imam)
Visit the 'Jamkran Mosque'
Continue journey to Kashan and arrive late afternoon to visit yet another famous Grand Bazaar and sip tea by the famous little tea shop in the old Caravanserai
Visit the unique 'Bozorgh Agha' Mosque
Day 4 (Kashan)
Leave early morning after breakfast for Kashan, a town famous for carpets and tiles world over
Visit the Grand Baazar
Have lunch and relax
Visit Tabatabaei, Hoseini and Bani Kazemi Historical Houses. Incredibly beautiful and famous all over Iran for their beauty and history
Day 5 (Isfahan)
Leave Kashan early morning after breakfast and drive to Isfahan ('nasf-e-jahan') – Half of the World
Stop over in Natanz and visit the ancient Jameh Mosque. A rare gem in all of Iran.
Arrive in Isfahan and visit Naqsh-e-Jahan (where you will see the famous Sheikh Lotfollah and the grand Shah Abbas Mosques)
Visit the Si-o-Si Pol bridge and sit by the river Zayndeh river to enjoy the evening atmosphere around this incredible site
Day 6 (Isfahan)
Visit the oldest and largest mosque in Isfahan – the 'Jameh Mosque' (friday mosque)
Visit the less known but incredibly beautiful Seyyed Mosque
Enjoy traditional Isfahani speciality lunch
Visit Chehel Satoon palace
Day 7 (Isfahan)
Start the day by visiting the old Armenian Christian quarter of Jolfa and visit the magnificent Vank Cathedral
Walk around Jolfa and enjoy local coffee and tea offerings
Spend the evening in Naqsh-e-Jahan and visit the Ali Qapu palace
Day 8 (Yazd)
Leave Isfahan early morning after breakfast and drive to Yazd
Stop over in the city of Nain and visit the Jameh mosque. One of the oldest in Iran that's still in use.
Welcome to Yazd – the Zoroastrian capital. Visit the 'Towers of Silence'
See the largest Fire Temple in Yazd with the 'eternal' flame
Day 9 (Yazd/ Shiraz)
Visit the Jameh Mosque of Yazd and the surrounding ancient city and markets
Leave Yazd and drive for Shiraz but stop over in Pasargadae to visit the tomb of Cyrus the Great before
Day 10 (Shiraz)
Welcome to Shiraz – the city of poets and saints
Arrive in the evening and rest
Day 11 (Shiraz)
Wake up at sunrise to visit the 'Pink Mosque' (Nasir ol Molk Masjid)
Visit the tombs of Hafez and Saadi
Visit the most famous gardens in all of Iran – the Erum Bagh
Visit Vakil Mosque
Day 12 (Shiraz)
Visit Persepolis and Necropolis
Day 13 (Shiraz or Tehran)
If your return flight is from Tehran, travel to Tehran and relax.
If your return flight is from Shiraz, stay an extra day and enjoy the downtime and do some shopping or see other sites.
---
What you can expect to see and do
Iran has a lot to see. Our aim is to cover the heart of Iran and show you as much as we can at a comfortable pace. You will visit most major sights in each city – covering palaces, ancient mosques, mausoleums, gardens and the less known parts of the town.
You will see ancient the city of Persepolis in Shiraz, the fire temples and towers of silence of the Zoroastrians in Yazd, the magnificent mosques and palaces of the Safavid and Qajar dynasty in Isfahan and Tehran. We will immerse you in local culture and tradition as much as possible. You will eat Iranian food, relax in local cafes and listen to live music under the bridges and streets of Iran. A timeless tradition.
There will also be some down time each day for you to explore places we might not cover. This tour has been specially designed to deliver an experience that is more than simply tourism, although many popular tourist sites will be part of the itinerary. We recognise some guests are interested in culture, art and architecture and others want a spiritual touch. We will do our best to ensure everyone is satisfied, but please note this is not a niche tour for spirituality.
---
Who is this tour suitable for?
Anyone who has been curious about Iran and wants to learn and explore the culture, social and spiritual side of Iran. This is not a religious tour and we aim to deliver a secular experience for all our guests. All we ask is that you are open minded and can enjoy the diversity and beauty of this wonderful place.
Iran is a very safe destination for all travellers (including female) and the people are hospitable, respectable and most importantly welcoming.
While Iran is also very family friendly and suitable for those with children this tour unfortunately will not be geared for families at this point. We will cover great distances and have busy days that might make it difficult for young children. If you would like to visit Iran with your family please contact us for advice as we can assist in creating a tailored tour.
---
All EU citizens (except the UK) can obtain a visa on arrival at major airports in Iran.
Please read our detailed guidance on getting the Iran visa.
All other world citizens must also apply for a visa in advance. Zirrar Tours will guide you throughout the visa process to obtain the visa authorisation code. Please note there will be an additional cost ($50) for the visa.
FAQ's
Please read our FAQ section here to help you plan for the 'Heart of Persia' tour.